PhilMar Products Inc.
PO Box 451
New Providence, NJ 07974
Phone: 908-508-0010
Fax (orders only): 908-508-0002



---
Home of the G-CLIP ®
A Plastic Point of Purchase Shelf Edge Price Channel Sign Holder.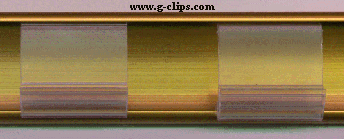 G-Clips inserted in a section of 1.25 inch price tag molding
---
Information
G-Clips hold signs and display material on standard price channel shelf molding. They prominently display point-of-sale signs flush to 1-1/4 inch ticket rail.
G-Clips are specifically designed to work with standard 1-1/4 inch c-channel shelf molding found on most retail fixtures.
G-Clips are made of co-extruded transparent plastic. They easily snap in and out of standard shelf edge price tag molding, -no tools are required.
G-Clips are 1-1/4 inches wide to provide maximum gripping power. They firmly grip signage and display materials are easily inserted and removed without puncture or damage.
G-Clips can also be installed upside down, allowing your signs to extend below the shelf edge.
Samples are available for qualified prospective buyers. Please call or e-mail for info.
---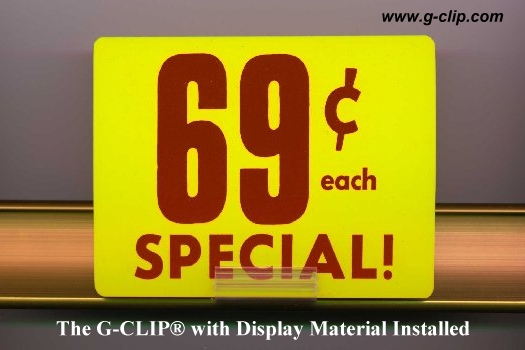 G-Clip® sign holder with display material installed
G-Clip® sign holder in inverted position
Due to superior gripping power, signs can extend *below* the shelf edge.
---
Ordering & Shipping Info

Supplied in poly bags of 100 G-Clips each.

Packed 5000 G-Clip sign holders per carton.

Orders of 5000+ G-Clips qualify for bulk discount pricing.

Prepayment by certified check or money order.

Prepaid credit card orders accepted via

Net 30 terms available upon credit application & approval.

Shipping via United Parcel Service or US Postal Service.

BULK DISCOUNT PRICING - Orders of 5000 G-Clips or more

Quantity

5,000

10,000

25,000+

Net Prices
Per Hundred

$6.75

$5.75

Please call, fax, or e-mail
for bulk discount orders of 5000 clips or more.

SMALL ORDERS - Bags of 100 G-Clips each

Please specify quantity of bags desired during checkout:

Click Here For Terms of Sale
---
The Modern Store Demands The G-CLIP ®
In todays fast paced retail marketplace, store decor designers strive to achieve a clean, organized, uncluttered look which enables customers and employees to quickly locate products, pricing, and sale information . The G-Clip fulfills these important functions.
The G-Clip is a POP display shelf channel sign clip custom designed to overcome the faults and failures of other existing devices. Its beauty is in its rugged simplicity. It wont suffer metal fatigue and fall out of channels after several uses. Its lip wont tire or bend causing the sign to tilt or fall off.
Compared with other forms of shelf sign holders, the G-Clip has a tendency to camouflage itself in almost any surrounding; helping to maintain a smart, sharp appearance. G-Clips do their job quietly and effectively, focusing consumer attention on your sign. G-Clips are the sign holder of choice for dynamic and progressive store planners.
Typical G-Clip® installations include (but are not limited to):
Supermarkets & Grocery Stores
General & Convenience Stores
Department Stores
Hardware Stores
Fish Markets, Meat Markets, & Butcher Shops
Delicatessens, Bakeries, Gourmet Coffee, & Donut Shops
Liquor Stores, Wineries, & Brew Pubs
Pharmacies & Drug Stores
Discount, Outlet, & Dollar Stores
Stationery & Office Supply Stores
Storage & Stock Rooms
Video-DVD & Movie Rental Outlets
Wholesale & Price Clubs
Office, Pet, Computer, Electronics, Automotive, & Sporting Goods "Super Stores"
Cafeterias, Food Courts, & Snack Bars
Concession Stands & Vending Carts
Shopping Centers & Malls
School, Military, & Hospital Food Service
Trade Show & Convention Floor Display Booths
Anywhere there is existing 1.25 inch "C" channel shelf molding!
---

PhilMar G-Clips VS Traditional Metal Clips


| | |
| --- | --- |
| Lines up with the channel lip and permits full viewing of merchandise | Raised from channel lip partially hiding merchandise |
| Shows only transparent plastic lip -Entire sign surface is visible | Shows most of clip and fingers which may hide part of reading |
| Holds sign flush to shelf edge | Sign extends from shelf edge and is more readily disturbed or dislodged |
| Lip and flexible co-extruded vinyl fins give 3-4 times gripping area and are not easily damaged | Clip fingers offer little gripping area and are easily bent |
| Is formed in clear plastic several times the thickness of metal and has no stressed or weak areas | Is punch press stamped, can easily bend on stress lines and may fall out of channel |
| Has no cutting edge | Razor-sharp edges on metal clip may cut and lacerate people and clothing |
---
©2023 PhilMar Products Inc. All rights reserved.
"G-CLIP" is a registered trademark of PhilMar Products Incorporated.